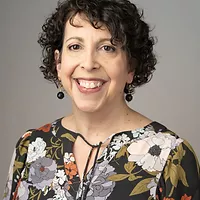 Change is a natural part of life, and – like many of you – my career path has been full of changes.
A lover of words, I graduated from Northeastern University with a degree in journalism. I started my work path as a writer and editor, working first for a small public relations agency, then for a public television distribution service, and later as a proofreader for a Boston law firm.
When my desire to help others grew beyond the work I could do as a volunteer, I transitioned to the non-profit sector, taking on fundraising roles in social service agencies including Big Sister Association of Greater Boston.
An interest in higher education – an environment brimming with professional development and learning  – led me to a public relations job at Simmons University. This turned out to be the most important decision in my career. In addition to gaining new skills, I took advantage of the school's tuition benefits and acquired my Master of Social Work degree.
After graduation, I returned to social services, this time working directly with families at risk of homelessness. As a career counselor, I helped low-income individuals find employment and education opportunities. I used the strong listening and relationship-building skills from my social work education, as well as the writing, editing, and communication skills developed years before.
Today, I use all of these work experiences, abilities, and talents to help job seekers navigate through their own career journey so that they can bloom and discover their true calling.
I am a proud member of the National Association of Social Workers, where I serve as a career services volunteer to Massachusetts chapter members seeking support. I also write a Career Services column for its quarterly magazine, Social Work Voice. Additionally, I am a co-associate editor for the National Career Development Association's "Career Convergence" web magazine.
I keep my career skills and knowledge up to date as a member of Career Thought Leaders, an organization focused on career industry education, trends, and innovation, and as a member of the regional Career Counselors' Consortium Northeast. I'm also thrilled to be a co-founder of The Career Experts Group, a consortium of highly experienced coaches, resume writers, brand leaders, and diversity consultants that support individuals throughout their career journeys. The Group also publishes a monthly newsletter.