I'm pleased to share the following article that I wrote for the June issue of the Career Experts Group's newsletter, "Your Career, Your Future." To read the entire newsletter, click here.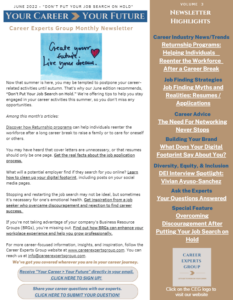 The job market is still hot, with many employers scrambling to fill positions vacated during The Great Resignation. But the outlook is more challenging for those who left the workforce for two or more years to raise a family or care for a loved one, to address their own medical or mental health issues, or to pursue an education. Reentry can be even more difficult depending on the number of years out of the field, and any new technologies and industry advancements introduced during that absence. Thankfully, there are resources available to help these "relaunchers" return to work in a way that supports their professional growth and development: returnship programs. These paid internships offer a formal pathway back to work, including upskilling to prepare for today's workplace. Best of all, these programs are free for participants.
ReacHIRE manages full-time, 6-month programs with companies including Citi, Schroders Investment Management, and Fidelity. While its programs prioritize women returners, opportunities are available to all. ReacHire also offers technical onboarding, professional workshops, and one-on-one coaching to all of its participants.

PathForward is a 16-week program that offers temporary job placement. Each company determines its own start and end date, pay rate, and benefits (if any) they will offer. Opportunities include engineering and technology returnships at companies including Intel and Audible, and corporate returnships in marketing, finance, product management, HR, and legal roles at companies including SC Johnson and NBC Universal.

The Mom Project was named to Fortune magazine's Impact 20 list, which recognizes companies making measurable progress to address social and environmental issues as part of their core business strategy. This women-focused program matches participants to contract-based jobs in tech, finance, and other professional service industries. It also offers an online community, career articles, and a scholarship program for women of color seeking upskill certifications.

iRelaunch describes itself as a "launch pad" for returners. Its popular "3,2,1 iRelaunch" podcast offers over 150 episodes, and a TED talk by co-founder Carol Fishman Cohen has nearly 3.5 million views. Its website also includes a job board, a virtual Return to Work Conference scheduled for October 2022, and a fee-based "Return to Work" Roadmap, a self-paced, 5-step preparation program.